Nothing remains on which COVID-19 has not been affected. It became the main reason for the economic crash down. It has changed the working style and place of our jobs. People are looking for alternatives so that their business can run like it was before the COVID-19 pandemic.
Business owners are now forced to change the working flexibility to remote working. But this sudden change in working place is not sustainable and productive because the environment which workers were receiving at offices is not possible at home. But now the experts are saying that the working flexibility will not change after the COVID-19 pandemic and there will be a need for remote jobs, social distancing, cleaner and efficient workspaces even after the epidemic. And, there are various changes in office interior design trends that we can see.
1.Need for individual workspaces
Since 2017, people have been moving towards the open office concept and were thinking that after 2022 there will be no individual booths in any office. People were thinking like that because employee collaboration is increasing day by day and this strategy is very beneficial. But now the COVID-19 is here to bring changes. The model of the post-COVID-19 world showing a man seated in a personalised space with modifications to collaborate easily.
Mandatory precautions will be continued even after the end of COVID-19. The concept of open office workspace will be slightly modified to make sure social distance between employees. The modifications will be different from both personal workspace and shared workspace. It will be designed by focusing on methods through which employees can work efficiently and comfortably.
The partition will be higher enough but it will also be designed according to the flexibility of employees to increase productivity. The environment of offices will be healthy for employees and cleanliness focused. It's a tricky task for the business owners but the best solution to obtain the desired goals of the company or organisation.
2.Use of Voice Assistant Technology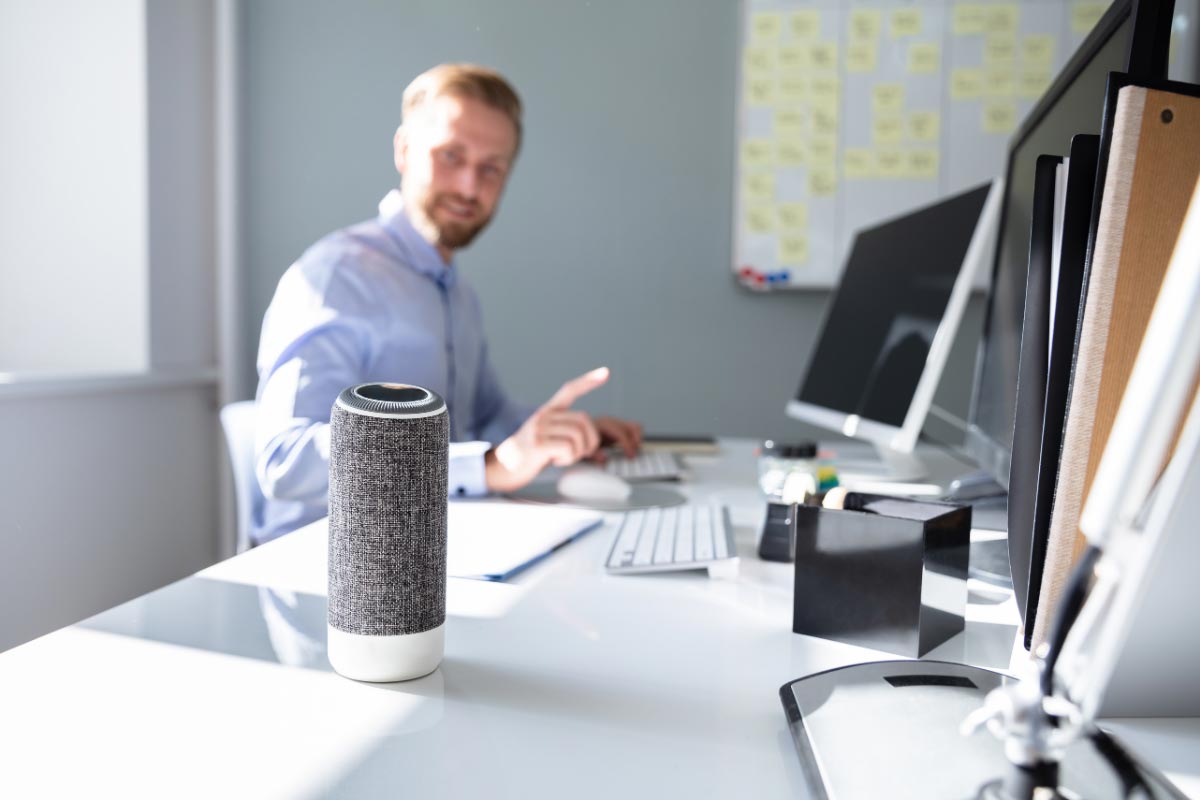 You can be affected by COVID-19 by touching objects as it remains active for some time on everything. Environmental surfaces including the chair, tables, switches, and many other things that we touch in offices can be the reason for going to ICU due to COVID-19. Experts are advising everyone to treat himself as an infectious person so you can remain more careful. Here your mind may ask you that Without touching how can employees work in the office?
Technology is changing every impossible thing to doable. Nowadays, people use smart devices at home which work on your voice command and are touchless due to sensors. Innovative technology is increasing our luxuries and comforts but these luxuries will now change into necessities due to the pandemic.
IoT will change the concept of hard work to smart work in a safer way. It is also very beneficial for elders. IoT devices are going to be common and will be used at a vast array in the offices. The automation and voice assistant feature will make a safer environment for the employees in the office. They will be used in every aspect from the light switch system to monitoring and security purposes. They will be affordable and essential in the coming years.
Many companies and organisations are already using IoT on their entrance for security purposes; for example, temperature-sensitive cameras alert the security of buildings when someone tries to enter. Using IoT devices in the future will be more beneficial and their usage will be expanded.
3.Selection of interior material
Since the COVID-19 entered the world, we have been continuously advised to wash hands again and again for at least 20 seconds. The virus spread not only by touching other persons but also through contaminated surfaces. We touched dozens of things in our workspaces every day before the pandemic such as conference tables, chairs, or many others. But now all these things should be antimicrobial so there will be no transmission of viruses.
Business owners should use copper and silvers in workspaces as they have antimicrobial characteristics. Everything of need is available in copper and silver material such as fabrics of upholstered chairs. Steel and aluminum such as door handle also have antimicrobial abilities so there will be less transmission of viruses if business owners take these precautions. You may also add-in touchless technology into your interior materials.
4.Smaller conference rooms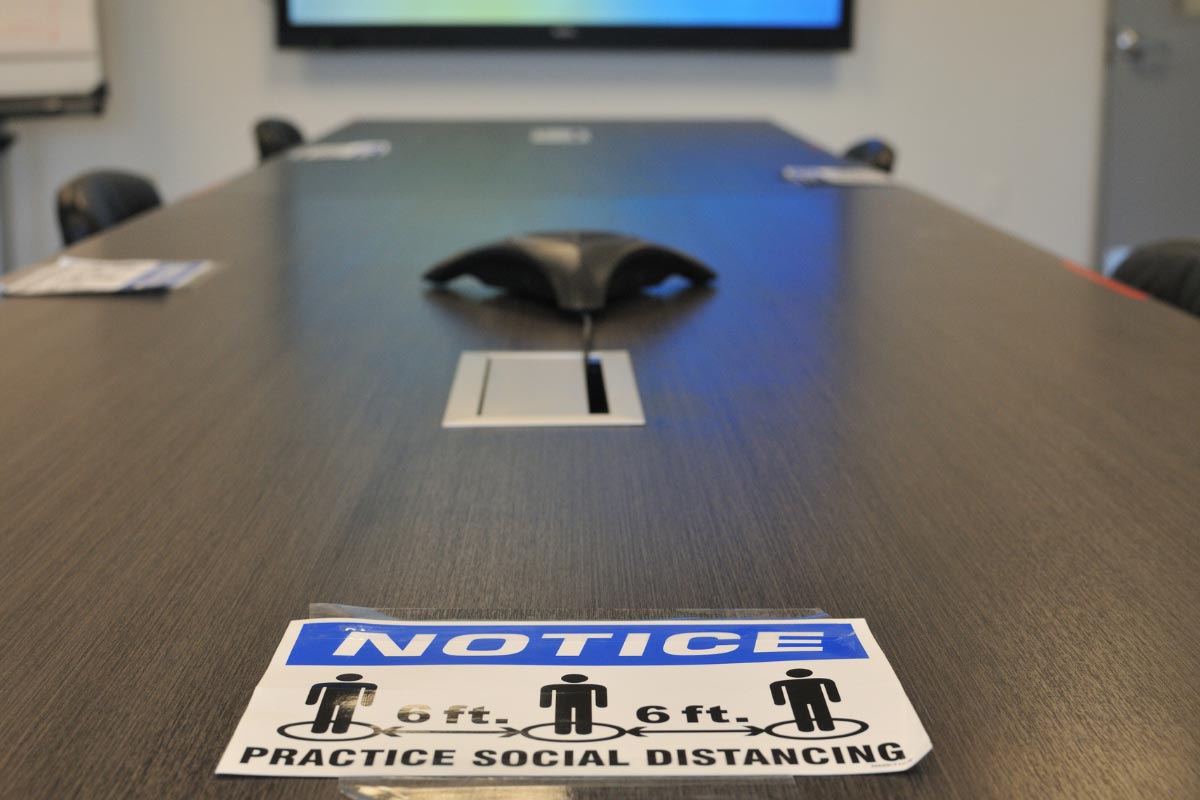 The main purpose of calling employees to the office is to get efficient results through collaboration. But if there will be no collaboration what will be the purpose? So, in this case, the business owners will divide a long conference room into parts. This will show two to three employees to work together while maintaining social distancing. It's the best method to improve the working efficiency of employees. A small group of employees can also communicate with the persons working from home within a small conference room. Doors are also a big challenge for business owners because everyone will touch it for opening or closing. So, moving towards the motion doors or no doors will be more beneficial than regular doors.
5.More signage to see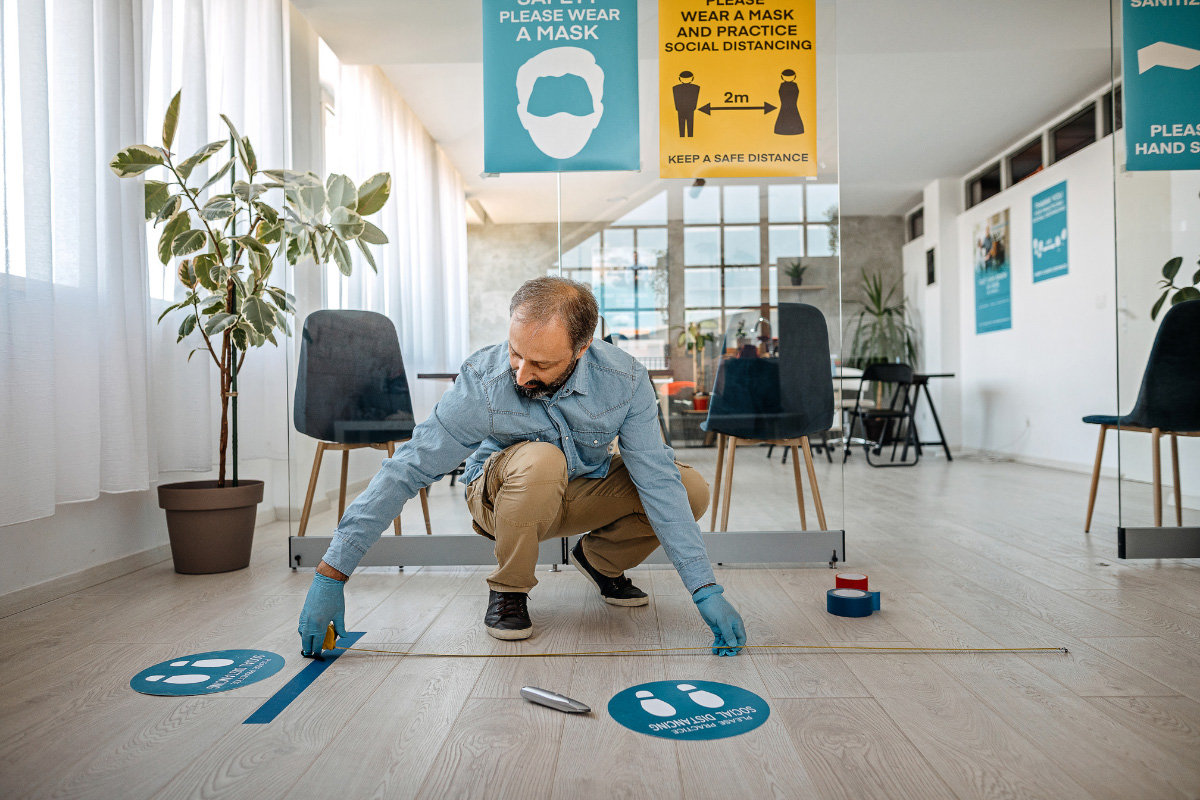 It's our habit to see and follow signs of the road markings to be in order. Just like this, companies management should make an environment that keeps the employees at a proper social distance. Floor stickers should be drawn in front of the elevators to disperse the density of employees when they are waiting. Communication with the employee should be better to re-evaluate work schedules and all the measures should be applied for a clean and antimicrobial office environment.
It's Health Conscious design now!
COVID-19 has shown all the weak points of residential and commercial areas based on safety. People are now much more health-conscious and emphasize eco-friendly interior design to protect themselves and loved ones from any virus transmission. People should avoid interior gatherings because poor air ventilation causes the transmission of viruses through airdrops. Make sure that all the surfaces are sanitised before touching. Improve the air filtration system of your room. All these precautions will lead to healthy interior design for both residential and commercial areas.