Although the Covid-19 pandemic has made companies create a work-from-home setup, we still see the importance of having an office. An office with a great design can bring a lot of benefits to your company.
As the pandemic restriction eases, many are now returning to offices. This means that office renovation in Singapore has a key role in adapting to the new normal.
But, before starting your renovation plan, there are many things that you need to consider. And this is what we are going to discuss in this article.
Top Considerations for an Office Renovation in Singapore
Ideas from Employees
As hybrid offices are becoming popular right because of the pandemic, you might be thinking also of retrofitting your offices to suit this current trend.
However, each company has a unique culture. So, before starting any renovation plan, make sure to seek input from your employees.
By considering your employees' ideas, they can feel happier. They will also feel excitement at work. Moreover, making this your first step before the renovation plan is ideal. In the first place, they are the ones who will occupy your office. After all, you want to motivate, make them safe and productive.
Therefore, if you are looking for ideas to improve current office space, it is best to seek suggestions from your employees.
Available Space
The next thing that you need to consider is the available space for renovation.
The total amount of space for renovation is essential to find the total costs of your office renovation.
You may use our renovation budget calculator to establish your project budget. You may also contact us for a detailed and accurate budget.
Design
As offices are now the second home, the design must adhere to the COVID-19 safety standards and highlight the importance of having personal space.
Nowadays, the design is not only for aesthetic purposes, but it must highly value the safety of the employees. For instance, you may apply clear dividers for physical distancing shields. There is also a much wider gap from one desk to another, making an employee have a personal space.
So, when thinking of design improvements, always consider the internal and external environment.
Materials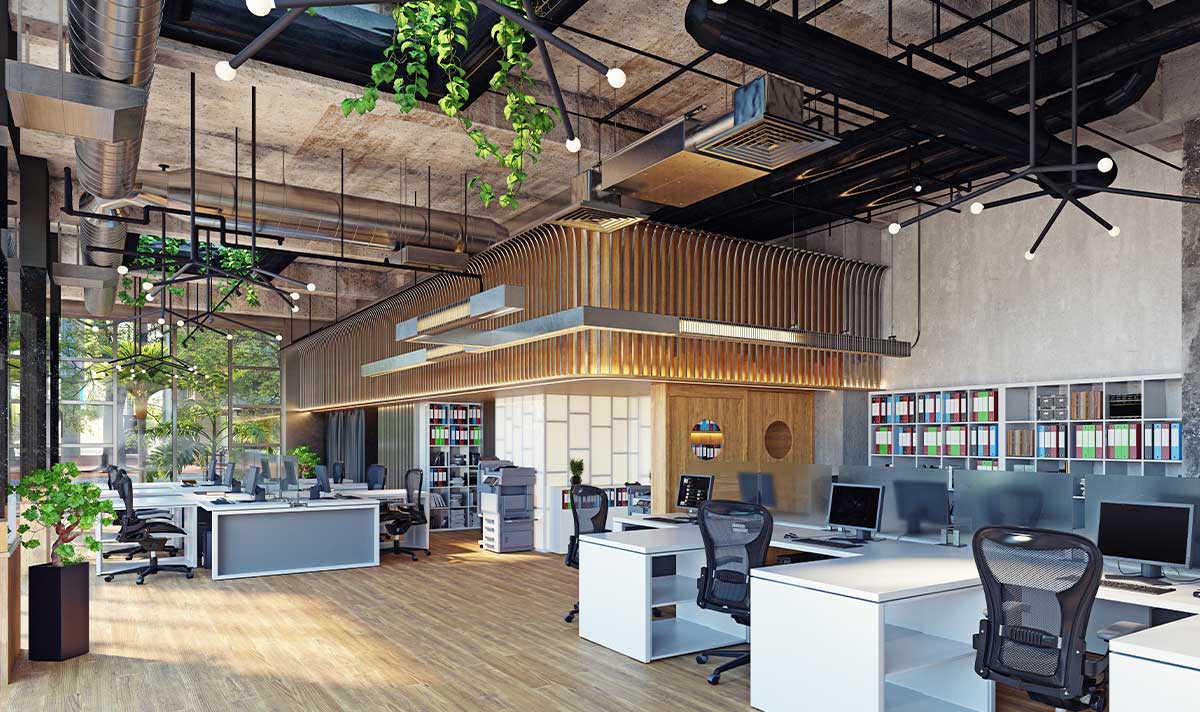 As part of our responsibility to help save the earth, it is essential to use materials for an eco-friendly renovation.
Moreover, to do our part to save the earth, it is essential to make our office energy efficient. By going 'green', you can save a lot with an open concept. It can reduce energy consumption. However, ensure that you are following the safety standards, especially since the challenges brought by the pandemic continue.
In addition, at this phase, you have to choose the right furniture. The office furniture must help in making the employees comfortable with their workspace. Additionally, it must give a stronger sense of personal space.
Office Needs
Another key factor that you need to consider is your office needs. You must also think of what is lacking in your current office that you badly need. Moreover, you will need to think of the things that you need to remove.
For example, since with the challenges brought by the pandemic, you might consider technological upgrades such as the use of voice-powered technology.
Company or Corporate Identity
When thinking of office renovation, make sure also that improvements can help you feature a stronger corporate identity. For example, that new color that you will apply must reflect your corporate identity to both your employees and clients. It can help to attract clients and retain talents.
Therefore when thinking of office renovation, don't forget to add a touch to your company's identity.
Find a Reliable Office Renovation Company
Finally, when you have decided to pursue your office renovation, make sure to find a reliable office renovation company in Singapore. With this, you can save more time and money.
A reliable office renovation company is knowledgeable and has various experiences in renovation projects in Singapore.
Selecting the best office renovation contractor in Singapore is also the key to having a smooth renovation. They know what's best and ideal for your office spaces.
When finding a reliable office renovation contractor, don't just find the one that provides the lowest quote. Find a contractor that has a good reputation and tracks record. You can check for their portfolio and past clients. Moreover, you can also check the latest review about them.
Hire only the finest office renovation contractors in Singapore. To get expert advice for your renovation project, contact us today!