Many lessons have been learned during this pandemic. Every possible task is being done on computers and smartphones online. But now it is clear that COVID19 teaches us new measures to be the catalyst for change in our work.
When the pandemic gets over, offices will never be the same as before. Like we cannot put the lid back on the box. Although we're seeing that work from home will stay in the future, this is also the same for offices.
Offices still play a vital role for every company. However, interior designers and architects will apply more new ways to their future work, especially in offices.
With millions of employees working from home at the moment, businesses are rethinking how will be the future office interior design. Companies have been looking into more flexible working spaces that can adapt to a more distributed workforce.
In this article, we have listed some important considerations for your future office interior design.
Top Considerations for Your Future Office Interior Design
Workspace Design For A Distributed Workforce
Concepts, studies, strategies, touchless technologies, cleaning tactics, and re-planned sections to keep more separation from the distributed work environment. It is said to be a mixed work paradigm that contains both on-site and off-site staff and various work schedules and team interactions.
Combines physical and digital workplaces into a single best opinion to make the place full of benefits to the entire workforce.
More productive than their traditional in-office counterparts
Significantly less expensive to maintain
Gives you higher levels of workplace engagements and attract more talents
Employees can do a better job if the environment is good
Biophilic Office Design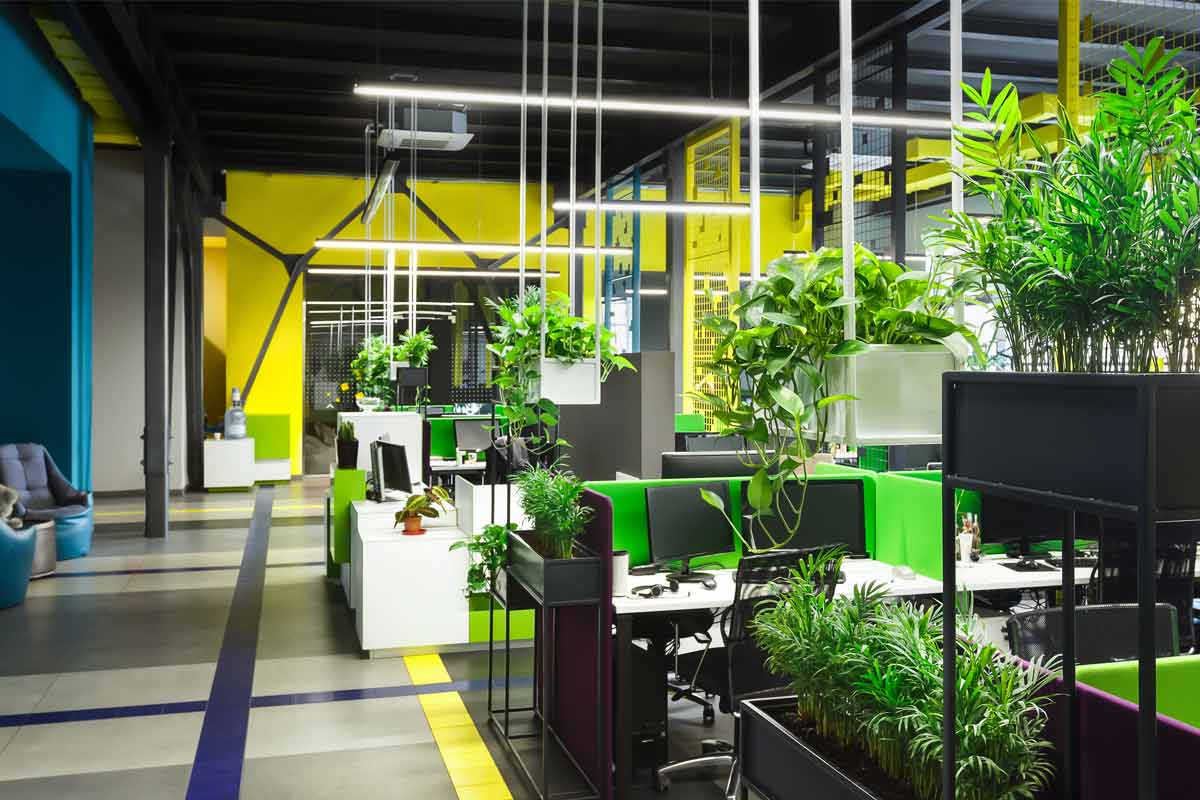 According to the studies, adding biophilic designs to our offices can boost productivity and reduce the chance of employee absenteeism. Two characteristics influence the bottom line because human resources account for such a substantial amount of a company's operational costs.
Significant benefits of biophilic designs
Build a human-centered approach that enhances many settings of health and well being
Establish deep ties with nature, which has always been a priority
A powerful tool for generating a sense of well being
You may also read the top office design tips that can increase productivity.
Use Of Smart And No Touch Technology
We can also see the rise of smart and voice-powered technology to play an important role in our future offices e.g. no need to touch the switch just to turn on a device or the light.  Also, we can definitely see the use of AI in future offices. There's no need to touch a device or machine to start it. This can help us deal with some of the vulnerabilities brought by the pandemic. Aside from that, it can help in enhancing office operations, air conditioning, heating, lighting, and security.
Office That Feels Like Home
Everyone loves to be at home as you know the people have the best bond to their house because it is their comfort place of sitting, sleeping, resting, enjoying, eating, and whatever.  In the same way, an office must be like a home, a place where employees are comfortable at their work. A relaxing environment should be provided at the office for more keen hard work of employees.
An Area Of Collaborative Space
Office space comprises a combination of private rooms and shared common areas, allowing employees to be flexible during the working day. Future office spaces will still have an open area for collaborative space. This is vital to encourage collaboration where they can freely share their ideas and knowledge.
Stronger Presence Of Corporate Culture Or Branding
When it comes to building corporate culture, the office is the best place to start. The workspace should establish a sense of corporate culture and branding. It showcases brand colours and identity where employees can feel in the future that it is still different to work in offices.  Also, with a strong corporate culture, your brand can be highly differentiated from competitor's brands.
Your Needs And Demands
Interior designers' offices must be cleaned, and well-constructed to attracts customers and a comfortable place for employees to sit and work keenly.
Planting and decorating the office will reduce absenteeism for employees and attraction for customers.
Smart technology must be known to every employee for future considerations
Advertisement and discounted days of sale are best to call on customers. Giving the best, unique ideas to customers online is another best way for the business.
Considering An Outdoor Space
The size of the outdoor office area must be broad and attractive. It must be modifying outdoor living spaces for sun control; the impact on light levels within the office must be considered. To make the most of the outside space, some shielding from prevailing winds is necessary; it depends on orientations. The rain events must be planned well as rain couldn't destroy our attractive outdoor spaces. Outdoor spaces can also help employees to unwind and refresh during break times.
You may also read the newest office interior design trends for post COVID world.